Group Therapy for Eating Disorders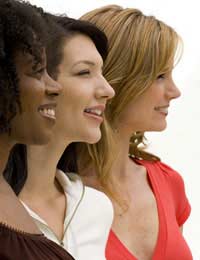 Group therapy is a common treatment option for individuals recovering from eating disorders. Not all anorexics, bulimics and/or binge eaters attend group therapy, or "group" as it is sometimes called, but those who do often learn valuable information about proper nutrition and self-care, have the opportunity to explore some general issues (which leaves their individual therapy sessions open for more specific topics), and find solace in the acceptance and support generally offered by other group members. There is no set path for group therapy, so the type of group attended and the length of attendance will vary on a case by case basis.
Group Therapy
The type and format of group therapy for individuals suffering from eating disorders will differ according to each group. Some groups may take in only individuals suffering from particular eating disorders while others will be open to individuals suffering from any eating disorder.
Some groups will only accept members of particular genders or ages while others will be open to all. Some groups may expect all members to participate, others will allow individuals to remain silent as desired. The frequency with which groups meet will also vary, though at least monthly meetings are the norm with some groups meeting several times per week.
Assignments may be given for individuals to concentrate on throughout the time between sessions, and some further reading may be assigned as well. All groups and group therapy sessions will be led and facilitated by a qualified therapist.
Types of Group Therapy
Various types of group therapy exist for individuals recovering from eating disorders, each with its own methods of treatment and goals for the group members. Common types of group therapy offered for individuals recovering from eating disorders include:
Cognitive Behavioural Therapy Groups – these groups operate on the idea that individuals must monitor their thoughts and feelings about food, weight and body image in order to recover from an eating disorder. Replacing these negative thoughts with more positive alternatives is stressed.
Psychodynamic/Interpersonal Therapy Groups – these groups are based on the idea that eating disorders result from intra and interpersonal conflict. These groups then work on addressing these underlying issues such as by building self-esteem, allowing members to accept their flaws and realise that expressing emotions is healthier than turning to disordered eating.
Psycho educational Groups – these groups are typically highly structured, have a theme or designated topic to each meeting, and often operate in a lecture format with the leader imparting information followed by time for questions and answers as well as a group discussion. Assigned readings and homework are usually given as a support for the group session.
Self-Help Groups – though not traditionally considered a form of group therapy, these groups are usually led by group members, not trained professionals, and often view eating disorders as types of addictions.
Many individuals suffering from eating disorders find great value in attending group therapy sessions as a part of their treatment plan. Often these sessions are held at a hospital or clinic, though they may be organised at a private therapist's office as well. Referrals from GPs and private therapists will help individuals locate group therapy sessions in their area, as well as obtain further information on the best form of group therapy for their specific disorder.
You might also like...