Hospitalisation and Eating Disorder Clinics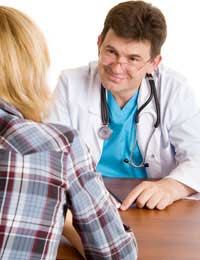 Eating disorders such as anorexia, bulimia and binge eating disorder bring with them numerous risks to an individual's physical health, as well as concerns for mental health from associated conditions such as poor self-image, low self esteem and depression.
Sometimes the physical effects of an eating disorder become so severe that an individual must be hospitalised to regain strength, or admitted to a residential clinic to most effectively begin their recovery. At such locations a team of specialists are usually on hand to carry out intensive and varied treatment plans, as well as strict daily routines designed to keep patients busy and from indulging their disordered eating and food behaviours.
The length of time an individual stays in a hospital or eating disorder clinic will vary, but when (s)he is released it is important to remember that (s)he is not cured, but rather still in recovery and still in need to love and support to continue on this long journey.
Physical Risks Associated with Eating Disorders
Physical risks of eating disorders vary according to the disorder, but they are all very serious. Anorexics suffer from severe weight loss (to a total body weight that is at least 15% less than what would be normal for a given height and age), a loss of hair or nails, anaemia, a loss of muscle mass, a loss of menstrual periods, joint pain, osteoporosis, poor circulation and the growth of fine white hairs known as lanugo. Damage to the heart, liver and kidneys may also occur in severe cases of anorexia.
Bulimics frequently suffer from sore throats and dental issues such as swollen glands, cavities, gingivitis, dry mouth and general mouth infections due to frequent vomiting in addition to constipation and diarrhoea, electrolyte imbalances and damage of the heart muscle and/or heart attacks.
Binge eaters put themselves at risk for a wide variety of health conditions and diseases due to obesity, including high blood pressure, high cholesterol, type 2 diabetes, heart disease, stroke, joint and muscle pain and sleep apnea, as well as stomach and gastrointestinal pain, gum infections and cavities and constipation or diarrhoea. If an individual is hospitalised due to an eating disorder, it is these physical health issues that will be treated immediately.
Hospital and Clinic Stays for Eating Disorders
When an individual suffering from an eating disorder is admitted to a residential hospital or clinic, a multidisciplinary approach is usually taken to treat the disorder. A team of specialists including medical doctors, social workers, psychologists, counsellors, therapists and possibly even alternative therapists is usually on hand to carry out individual treatment plans, and intense days of medical appointments, private therapy appointments, group therapy sessions and support group meetings.
Meals will often be planned according to each individual patient's physical needs, and opportunities for purging or excessive exercising will be rare. Most patients will also have items such as weighing scales, personal exercise weights and laxatives or diuretics confiscated during admission.
Regulations on clothing, mobile phones and laptop computers, day passes and overnight visits will vary, but most patients will not be formally granted "leave" until they have reached a satisfactory weight and/or can demonstrate a decline in disordered food and eating behaviours. Release from residential programmes for eating disorders will depend upon each individual patient's needs, goals and progress.
You might also like...
Hi, I'm looking for a rehab specifically for people with eating disorders. Somewhere that does a programme for up to 3 months and somewhere I can go strictly as a day patient. Can anyone help?
Hello im nadine, i live in northern ireland. im 19years old. I have anorexia nearly 2years. i have been gettin outpatient treatment over a year but not gettin better & there is no inpatient treatment here for eating disorders. I no i am going to die if i dont get better and i really really want to recover.
nadine
- 5-Jun-12 @ 5:16 PM
Hi Jenny, If you don't mind me asking where are you based, which hospital? And at what point did they decide to take your daughter in? Our daughter is slowly losing weight but Adenbrookes ED unit weekly meets are now every other week while she still deteriorates slowly. Is there a point in her weight that allows you to see her or do they have a recommended timescale before you can have visits?
Cmc
- 26-Apr-11 @ 6:05 PM
My 18 year old has starved herself to 73 pounds, and has been in the hospital for 2 weeks. I am not allowed to talk to her, (the psychologist doesn't want me to excite her). I am her mother. She can have a 15 minute visit from a friend's mother. I am not given any information, even tho she has signed a waiver that I should be informed. I don't even know what to ask. I am allowed to write to her now. The last time I saw her, she was 97 pounds.
jenny
- 20-Apr-11 @ 6:33 AM