Family Therapy and Eating Disorders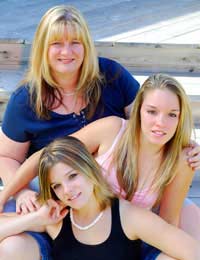 Eating disorders do not only affect the individuals who suffer from anorexia, bulimia or binge eating disorder, but their families as well. Very often a family member is the first person to observe an eating disorder, as individuals themselves rarely admit to a disorder without being confronted, and family members are also highly instrumental in an individual's recovery as well. Though parental and family involvement obviously diminishes if an anorexic, bulimic or binge eater lives outside of the family home, the support of their family still remains important in their journey to recovery. Family therapy is not only about recovering from an eating disorder, however, but about the efficient functioning and growth of the family unit as well.
Treating the Family
Family therapy, or private therapy sessions conducted with both the individual suffering from an eating disorder and his/her closest family members, is intended to treat everyone in attendance. Very often family members will not even realise their involvement in an eating disorder until these sessions, nor will they truly understand the eating disorder without a professional explanation. Whether they want to or not, families must make changes in order to accommodate the needs produced by an eating disorder and it is this growth that is facilitated through family therapy sessions.
The Role of the Family in Recovery
Many family members feel powerless and frustrated when faced with a loved one's eating disorder, but family therapy allows them to investigate how the eating disorder has affected their own lives and how they can be supportive throughout the recovery process as well.
Family therapy sessions will provide family members with the tools necessary to provide this constant support, prepare and plan nutritious family meals, monitor their loved one's eating and food behaviours, and strive to heal any underlying issues that may have contributed to the development of their loved one's eating disorder.
Finding Family Therapy
Family therapy is offered only by trained, qualified therapists who have an interest or expertise in eating disorders. Family therapy may be offered while an individual is in hospital or a residential clinic, though it often carries on during out-patient treatment as well. Generally family therapy is a short-term treatment method, lasting for only a few months. For a family therapy referral in the local area, contact a GP or private therapist.
Family therapy sessions can be a powerful tool in the recovery from an eating disorder such as anorexia, bulimia or binge eating disorder. Not only do family therapy sessions allow family members to explore their relationships with each other and the eating disorder, but they allow non-judgemental environments for these investigations as well. Not all individuals suffering from eating disorders will engage in family therapy as part of their treatment plans, though those who still live in the family home tend to particularly benefit from this type of therapy.
Family members also often find great benefit from family therapy sessions, as they are able to discuss and confront the eating disorder themselves. While many different types of family therapy approaches exist, none of them are meant to blame or shame any family member. Instead, all types of family therapy attempt to foster growth in the family and strengthen existing family ties.
You might also like...