Eating Disorders & Slimming Pills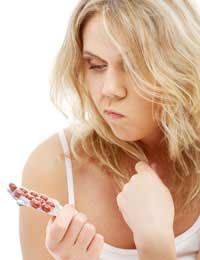 Many people, young women in particular, believe their weight loss will be made quicker and easier by using slimming pills. This route of weight loss can lead to an abuse of the substances and can had some extremely adverse effects.
Many slimmers begin taking these aids quite sensibly, believing that they have total control over their actions and will stick to the recommended dosage. In reality however, many of these people find that they are increasing the amount of pills taken as they are wish to speed up weight loss and become, to a certain degree, dependent on the substance, and before long they will be consuming huge and dangerous amounts.
What Are Slimming Pills?
The internet, magazines and newspaper are rife with advertisements from companies claiming to have the best and safest slimming aids. The truth is most of these products are either derived from amphetamine substances which help to reduce appetite, or cause the body to waste excess products. These wastes can either be fluids or cause diarrhoea by speeding up the bowel processes or by drawing additional fluids into the bowel causing the stool to become looser.
It is very common for those suffering from an eating disorder to abuse substances such as laxatives to help them purge their system of food and water and many people with anorexia find themselves using extremely high quantities of the substances on a daily basis.
What Are The Effects Of Slimming Tablets?
If pills designed to reduce appetite are purchased, they can have dangerous effects such as causing the heart to race, palpitations to occur and a fine tremor to develop. Long term use can lead to headaches, sleep disturbances and mood swings. If a person is not receiving the required amount of nutrients, minerals and calories the long term effects can seriously damage health and increase the incidence of many illnesses to occur.
Slimming pills that alter the bowel habits and functions can lead to dehydration and an imbalance in electrolytes within the body. This can cause certain illnesses to develop and have long term detrimental effects.The worst effects of overuse of these tablets can include renal failure, heart failure, seizures and even death. They should always be used with caution and taken as directed.
What About Prescribed Tablets?
These types of slimming aids are the safest though still not ideal to achieve long term healthy weight loss.Your GP will have carried out a thorough assessment of both your physical; and psychological state before deciding if these pills are appropriate for you.
They must always be taken as directed and never be consumed in great quantities.It is essential that you disclose any health problems to your doctor as some illnesses and existing prescriptions can become worse from the effects of certain tablets.
Slimming pills are potentially very dangerous and should only be used with the recommendation of your doctor and taken as prescribed or directed on the packet. They can very easily become abused and can lead to several health problems and even death if taken excessively.If you feel slimming pills are an option for you, please speak to your doctor or health food shop manager for advice.
Do not buy tablets from the internet or from magazines adverts as these tablets may not even be what they are advertised and can be nothing more than a sweetener of sodium tablet, or potentially any drug that can be supplied cheaply.
You might also like...