Diagnosing Anorexia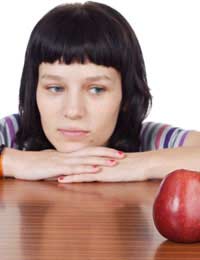 Anorexia nervosa also known simply as anorexia, is an eating disorder in which an individual becomes so afraid of gaining weight and/or having body fat that (s)he severely limits the amount of food that (s)he will eat. Often anorexics will also exercise excessively in an attempt to burn off the calories that they do eat so that they will not gain any extra weight. Even when they are physically wasting away, and others perceive them as almost sickeningly thin, anorexics will still feel that their bodies are too heavy and continue to eat as little as possible. Unfortunately, without enough nutrients to nourish them, an anorexic's internal organs may fail and death can result.
Signs of Anorexia
Rarely will an anorexic recognise his/her own eating disorder and seek help, so it is often up to friends and relatives who suspect anorexia to enlist the aid of medical professionals. Many of the signs that indicate anorexia include:
Obsessively counting calories.
Skipping meals.
"Playing" with or pushing food around a plate rather than eating it.
Hiding food (in a napkin, under a plate, etc.) to avoid eating it.
Lying about having eaten in an attempt to avoid a meal or snack.
Avoiding social events which require eating or involve food.
Eating only a limited number or type of food.
Exercising excessively, particularly after or "to make up for" eating.
Dramatic weight loss.
Excessive interest in weight, body image and fasting.
Hiding behind loose or baggy clothing.
Low energy levels.
Frequent illness.
Excessive sleeping.
Low or no sex drive.
Diagnosing Anorexia
A diagnosis of anorexia can only be made by a qualified medical professional which is usually a mental health practitioner. In order for anorexia to be diagnosed, four diagnostic criteria must be met. The standard criteria for diagnosing anorexia include an individual's refusal to maintain a body weight appropriate for his/her height and age (usually 15% below average), an intense fear of becoming "fat" or overweight, even when uncommonly thin, a lack of self-confidence related to distorted self-image and the loss of menstrual periods for at least three months (obviously not included for diagnosing males). If anorexia is diagnosed according to mental health criteria, an anorexic will also likely need a thorough physical examination to determine the extent of illness or injury that has been caused by this eating disorder.
Treating Anorexia
Anorexics with severe physical health problems may need to be treated in a residential hospital or clinic and regain their strength before effectively treating their eating disorder. There is no one recognised course of treatment for anorexia, but instead treatments may include a mixture of counselling/therapy, family counselling/therapy, cognitive behaviour therapy (to change food, eating and/or exercise behaviours), the use of support groups or group therapy, and nutritional counselling and planning. Rarely is medication used to treat anorexia unless it is prescribed to treat an associated condition such as depression.
Anorexia is a common though highly dangerous eating disorder that can have lasting effects on an individual's physical as well as mental health. Most anorexics will not recognise their eating disorder as harmful, and even fewer are likely to seek diagnosis and treatment on their own. Instead, it is often family and friends who intervene to seek help for anorexia before any lasting damage is done.
You might also like...