Diagnosing Bulimia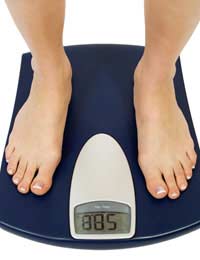 Bulimia nervosa more commonly called bulimia is an eating disorder marked by binges and then purges. During a binge a bulimic will eat a great amount of food in one sitting, but then purge by either inducing vomiting or taking a laxative or diuretic to expel this food. For bulimics, binging and purging becomes a cycle but they may never lose, or gain, enough weight to make it obvious that they have an eating disorder. Damage to the digestive tract, mouth, teeth and salivary glands is common among bulimics and the constant binging and purging mean that bulimics rarely keep in enough vitamins and minerals to remain healthy. These factors can have serious and long-lasting health effects.
Signs of Bulimia
Though bulimia is often associated with low self-esteem and low self-confidence, it is the behaviours in which bulimics engage that marks their eating disorder to the external world. Bulimia is an eating disorder that manifests itself through binge eating followed by purging and these behaviours are the hallmark signs of this disorder. Many bulimics also engage in behaviours that become warning signs of bulimia such as:
Hiding the food reserved for binges (including bread, pasta, sweets, desserts, crisps and ice cream though any food can and is consumed during binges).
Lying about what has been eaten.
Binging in secret.
Purging in secret.
Hiding items such as laxatives or diuretics.
Running the tap or bath while in the toilet to disguise purging episodes.
Displaying deep concern for body weight, body shape and overall image.
Frequently complaining of sore throats (brought on by repeated vomiting).
Frequently complaining of dental problems (also brought on by repeated vomiting).
Hiding behind loose or baggy clothing.
Showing low or no sex drive.
Diagnosing Bulimia
Though bulimia is an eating disorder and thus wreaks havoc on physical health, it is diagnosed according to mental health criteria. Five standard criteria must be met for a diagnosis of bulimia, including binge eating, purging (including induced vomiting, the misuse of laxative, the misuse of diuretics, the misuse of enemas, fasting and/or excessive exercise), a cycle of binging and purging at least twice a week for three months, holding deep fears of weight gain and unrealistic ideas of a healthy weight, and the absence of anorexia. If an individual binges and purges during an episode of anorexia then (s)he is considered to be suffering from Binge and Purge Type Anorexia instead. However, if bulimia is diagnosed then a subtype will need to be determined. Purging Type Bulimia Nervosa is diagnosed when a bulimic purges to rid the body of food while Non-Purging Type Bulimia Nervosa is diagnosed when the bulimic does not engage in purging to rid the body of food but rather exercises or fasts excessively after a binge.
Treating Bulimia
There is no single, recognised cure for bulimia, but there are a variety of treatment options. Each bulimic will work with mental health professionals to design a mixture of treatments to address all of his/her behaviours and concerns. Common treatment for bulimia include counselling/therapy, family counselling/therapy, cognitive behaviour therapy (to change food and eating behaviours), the use of support groups or group therapy, and nutritional counselling and planning. Rarely is medication used to treat bulimia unless it is prescribed to treat associated conditions such as depression. Further information on the diagnosis and treatment of bulimia should be obtained from a GP, private mental health professional or from the Eating Disorders Association and/or National Centre for Eating Disorders.
You might also like...