Diagnosing Pica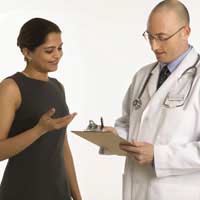 Pica is an eating disorder in which an individual has an appetite and is drawn to eating, non-nutritive substances such as chalk, soil, paper, sand, plaster, paint chips and more. The cause of pica is unknown, but very often pica is diagnosed in children, connected to a developmental disorder or emerges during a pregnancy. In children younger than two years old eating such substances is usually explorative and is not considered a disorder, however those older than two years of age who continue to be attracted to, and consume, non-food items should be examined by a medical professional as eating such items can have a negative impact on an individual's overall physical health.
Signs of Pica
There are only two main signs of pica, which are the craving and eating of non-food substances. In addition to chalk, soil, paper, sand, plaster, and paint chips, individuals with pica may also be drawn to and enjoy eating glue, faeces, insects, leaves, gravel, clay, laundry detergent or starch, baking soda, cigarette ashes or butts, ice, hair, soap and buttons. These eating behaviours may or may not be secretive, and usually do not prohibit the individual from consuming a relatively normal diet otherwise. In adults such as pregnant women it is often recognised that eating such substances are abnormal, but very often shame or embarrassment prohibits individuals from seeking a diagnosis and treatment.
Diagnosing Pica
Pica is usually only discovered when a health problem strikes, so if no major health concerns emerge then pica can remain undetected for months or even years. Very often pica is detected when an individual suffers from an intestinal blockage, intestinal perforation or tear, dental injury, poisoning and/or parasitic infection associated with eating non-food substances. Blood tests will usually be carried out during an investigation into pica to determine if a mineral deficiency or anaemia could be the cause.
Pica is diagnosed in individuals who have routinely consumed non-food substances for at least a month, for whom this behaviour is inappropriate to their developmental stage (for example, who are over two years of age) and who do not consume these substances as part of a recognised cultural or religious practice. A diagnosis of pica should only be made by a qualified medical professional.
Treating Pica
There is no recognised cure for pica, and the type of treatment recommended will depend upon the type of pica that is diagnosed. For example, if pica stems from a nutritional deficiency then this will usually be remedied with supplements. If, however, pica is diagnosed as a having a psychological basis, such as with an obsessive compulsive disorder, then treatment appropriate to this diagnosis will result. Other common methods of treating pica may also include counselling or talk therapy, family counselling, cognitive behaviour therapy, attendance at support groups, and nutritional education, counselling and planning.
Pica, an eating disorder in which an individual craves and eats non-food items, can lead to a variety of health concerns. The cause of pica remains unknown, but a diagnosis can be made after this behaviour lasts for at least one month. Treating pica is not simply about treating the eating behaviours, but the underlying motivations for these behaviours as well. For further information on pica, consult a medical or mental health professional for advice on a specific behaviour.
You might also like...