Diagnosing Binge Eating Disorder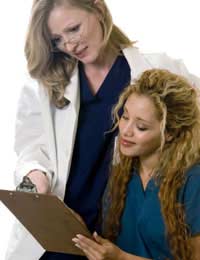 Binge eating disorder is a common eating disorder in which an individual regularly consumes a large amount of food in one sitting, or "grazes" constantly even when (s)he is not hungry or becomes physically uncomfortable from consuming so much food. Unlike bulimics, binge eaters do not purge after over-eating, nor do they routinely exercise excessively in an attempt to burn off the calories. Binge eating disorder can occur in individuals of any gender, race, age or socio-economic status, and because binge eaters often become overweight or clinically obese, they put themselves at risk for a wide variety of health conditions and diseases. Unfortunately, there is no recognised cure for binge eating disorder but there are a variety of treatment options that can be explored when binge eating disorder is diagnosed.
Signs of Binge Eating Disorder
Those suffering from binge eating disorder will consume large amounts of food at one sitting, or eat consistently throughout a given time period (such as, throughout a birthday party or Christmas Day) but will not purge or rid themselves of this food afterwards. Usually binge eating disorder is recognised by others due to an individual's eating habits, such as:
Ingesting an excessive amount of food, even if (s)he is not hungry.
Eating until (s)he feels uncomfortably full or physically sick.
Hiding eating habits due to shame or embarrassment.
Hiding food "reserved" for binges.
Hiding empty packaging or food containers, and generating extra rubbish.
"Grazing" or consistently eating for as long as food is available.
Emotional eating, or eating when stressed out or overwhelmed.
Feeling overwhelmed, ashamed and/or guilty during and/or after a binge.
Expressing disgust at eating habits, weight, body or appearance.
Voicing discontent with appearance, weight or self-worth.
Diagnosing Binge Eating Disorder
Binge eating disorder must be diagnosed by a qualified professional in accordance with recognised mental health criteria. These diagnostic criteria include cyclical episodes of over-eating and feeling out of control during episodes and over-eating episodes with at least three of the following: eating quickly, eating until physically uncomfortable, eating when not hungry, eating alone, or feeling ashamed or guilty about eating. Further criteria include expressing distress or disgust about binge eating, binging episodes that occur at least twice a week for at least six months, and binge eating without employing a method of purging (self-induced vomiting, excessive exercise, etc.) afterwards.
Treating Binge Eating Disorder
There is no recognised cure for binge eating disorder. That said, there are a variety of treatment options that can be combined as needed depending upon a specific patient's needs. Treatment options for binge eating disorder include counselling/ talk therapy, family counselling or therapy, cognitive behaviour therapy (to change food and eating behaviours), attendance at support groups or group therapy, and nutritional counselling and planning.
Medication is not often used to treat binge eating disorder, though appetite suppressants may be used under medical supervision and some medications, such as anti-depressants, may be used to treat associated conditions.
Binge eating disorder is a common, though often misunderstood, eating disorder. Further information on binge eating disorder should be sought from a medical professional such as a GP, eating disorder specialist or private therapist or from the Eating Disorder Association or the National Centre for Eating Disorders. Local support groups may also be available.
You might also like...