Family and Friends Coping with Eating Disorders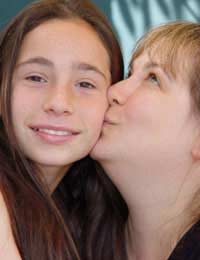 Individuals with eating disorders are often highly secretive of their behaviours and rarely will an anorexic, bulimic or binge eater come forward and not only recognise their disorder but ask for help as well. Instead, it is often family and friends who are left to intervene and cope with the fact that a loved one is putting their health at risk.
Though it can be hard, family and friends must remember that the eating disorder itself is a cry for help, and that the individual suffering from the eating disorder is highly vulnerable and in need of support. While this can be hard to remember when faced with the daily challenges of living with someone who suffers from an eating disorder, it is the love and patience of family and friends that is often the difference between recovery and the alternative.
Interventions and Eating Disorders
Confronting an individual suspected of harbouring an eating disorder takes courage. Rarely will a confrontation or intervention be greeted warmly, and in fact the situation may turn ugly before it can be resolved.
If you are worried about a family member or friend's life, however, don't let a few harsh words stop you. Instead, observe the individual in question and take note of possible signs and symptoms of an eating disorder.
When you feel confidence that you have enough evidence, ask to speak with the individual in private and explain the behaviours that you have observed and why you suspect an eating disorder. Do not become aggressive during this discussion, but instead use a calm and non-confrontational tone. Remind the individual that you love and care for him/her, but can not sit by while (s)he harms him/herself.
Finally, explain the options for diagnosis and treatment, and if you are prepared to ask for help without his/her consent then it is best to make this known. If (s)he is ready to seek help, help him/her to make contact with the professionals who will diagnose and ultimately treat him/her.
Supporting Individuals with Eating Disorders
Supporting an individual in recovery from an eating disorder can be a thankless job, and the recovery itself is as much physical work as it is mental work. Family and friends should be ready to discuss an individual's treatment plan, attend family therapy sessions, remain firm regarding healthy menus and meal plans, encourage exercise only for health and fun, and guard against secret binges or purges. Family and friends should also be prepared to cope with emotional outbursts (that will likely replace disordered eating behaviours), to remind the individuals that (s)he is loved and valued, and to praise an individual's talents and triumphs, even if there are a few slips back into disordered eating along the way.
Coping Strategies for Family and Friends
While supporting an individual in recovery from an eating disorder can be an emotional and tiring task, there are a variety of ways that family and friends can relax and recharge their batteries in order to better cope.
Scheduling at least one solid block of free time, even if it is for as little as 20 minutes per day, can have a great benefit on an individual's outlook and patience. Spending this time napping, taking a warm bath, reading a good book, sipping a cup of coffee in a café, going for a jog, writing letters or even just enjoying the solitude are all means of refreshing both the body and the spirit for the next stretch of the long road to recovery.
Support groups of family and friends of individuals with eating disorders exist across the UK and can be a great place to socialise and share experiences. For more information, ask a medical professional for a referral or contact the National Centre for Eating Disorders.
You might also like...