Support Networks for Eating Disorders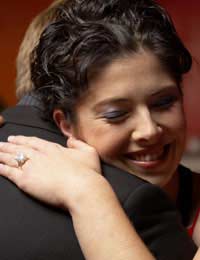 Creating A Supportive Network
For those who suffer from eating disorders or addictions of any kind, it is important to try and initiate a supportive network to ensure a good recovery.Once the person has admitted to their problem and is ready to face up to the issues surrounding their disorder, the healing process and recuperation can begin.To have in situ, a network of people who are all dedicated to helping you recover from your disorder will significantly increase your chances of having a successful recovery period.
A supportive network does not necessarily mean having many people from many different areas of your life surrounding you, it may simply be a very close friend, family member or professional who you choose to confide in and lean on for support. Each person is an individual with their reasons behind their disorder being unique to them, and will benefit from using different sources.
Friends And Family
For most, this is an area where it can be the most difficult to address. Many people believe their friends and family won't have noticed the problem or will not understand. However, given the chance your family and close friends can provide a very supportive network once they can begin to understand not just the actual problem, but the issues that caused the problem in the first instance. It may be that they and their actions in the past play a role in the problem developing, which is an area that will almost certainly need addressing and tackling. This can be achieved by employing the help of an outside force, possibly with a therapist or counsellor.Do not be afraid to discuss sensitive issues, as your loved ones may want to do this also but will be scared of hurting you or making the situation worse.Take your time, there is no hurry to sort out all of the problems straight away, address one issue at a time and don't be afraid to ask for help from those around you or professional help if needed.
Outside Agencies
Counsellors, therapists or mental health workers are specialists in the field of eating disorders and can offer a plethora of information, advice and support. Do not be afraid to seek help, much of what is available can be gained through your GP and may be funded by the NHS and Primary Care Trust. It may be that you feel that to start your recovery as an in-patient is the right road for you.
Whichever source is right for you, make sure you allow them time to understand the problem and ask questions. This may be difficult but the more they can understand, the more supportive they can be and will be better equipped to offer advice and listen to feelings, anxieties and sometimes tackle some difficult issues with you.Make sure the person you choose to confide in will be discreet with any information you choose to share and encourage them to be non-judgemental and as understanding as they can be.
For the sufferer of the eating disorder, to be safe in the knowledge that they have a network of support around when they are ready to address their problem, will significantly raise the chances of having a better recovery. Do not be afraid to ask for help and remember that many of your friends and family will probably be willing to help you get better, but they may be afraid to offer or be unsure as to how they can help. Communication and honesty are key issues in achieving a sense of understanding between parties and by achieving both, the road to recovery will be more easily achievable.
You might also like...
how about telling a sufferer how to get help that doesnt cost to recover when the nhs refuse to treat even though a practitioner in the nhs has diagnosed an eating disorder sick of being sick sick of being treated within the nhs as a ping pong ball instead of a person
bicky
- 26-Jun-13 @ 6:37 PM