Biological Factors & Eating Disorders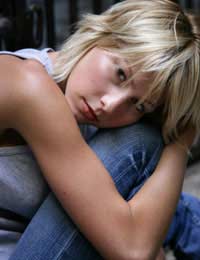 The exact causes of eating disorders such as anorexia, bulimia and binge eating disorder remain unknown, but research continues to investigate if biological factors could be the culprits. Genetics research and investigations into hormonal links are the two more frequently explored areas of biological explanations for eating disorders, though research into hereditary personality types is also being conducted. While some associations can be found between these biological factors and eating disorders, there are as yet no definite, causal links between any of them. So, can biological factors cause an eating disorder? Right now, the answer remains - maybe.
Genetics
Modern scientific and medical communities have conducted a number of studies to determine if genetic factors influence the development of eating disorders. The results of the studies so far remain unable to confirm that genetics contribute to, or indeed cause, eating disorders.
Some researchers have found connections between genetics and either too much or not enough serotonin receptors in the brain. These receptors are a part of the pathway which helps signal hunger and fullness to the body and it is thought that this might affect eating disorders. Some studies have also discovered that individuals who have family members who suffer from eating disorders have higher incidences of eating disorders themselves. This seems to be true of sisters, and in particular twins. This is not to say that there is definitely an identifiable genetic predisposition to eating disorders, but it does suggest that further investigation into eating disorders and genetics is needed.
Hormones
Recent research has also undertaken to determine if hormones could be a (or the) biological cause of eating disorders. Some studies have shown that disturbances to the hypothalamus and anterior pituitary gland (both involved with hormone production) can be linked to anorexia.
However, it has yet to be proven that these disturbances definitely contribute to the development of anorexia, though a number of studies have reported that in 30 – 50% of the cases in which the menstrual cycle is disturbed in anorexics, the disturbances were actually present before severe weight loss occurred and then remained problematic even after weight was put back on. Though no causal link has been found between low reproductive hormones and eating disorders, it continues to be an area of investigation as does the general subject of hormones and eating disorders.
Personality Types
The one biological factor that does seem to have a definite link to the development of eating disorders is personality type. It has been documented that some personality types, including obsessive-compulsive and sensitive-avoidant personalities, are much more susceptible to eating disorders than other types. As personality types are known to have hereditary and therefore biological bases, it can be said that they are biological factors contributing to, if not certainly causing, eating disorders. Other investigations into the hereditary basis of conditions associated with eating disorders, such as depression, are also on-going.
Whether or not biological factors can and do cause eating disorders is still under investigation. At the moment, scientists are prepared to say that it appears as though some biological factors such as genetics, hormones and personality types are associated with eating disorders, but not that they absolutely do cause or contribute to them.
For further information on biological factors and eating disorders, consult a medical professional or contact the Eating Disorders Association and/or National Centre for Eating Disorders.
You might also like...
Hi im doing a research paper on a biological approach towards eating disorders such as bulimia and binge eating. I am specifically writing about hormones and how it plays a role on why it effects the eating disorders. Could you send me some articles that gas been done to look through this please. Thank you
Tavo
- 2-Mar-18 @ 1:17 AM