Factors that Cause Eating Disorders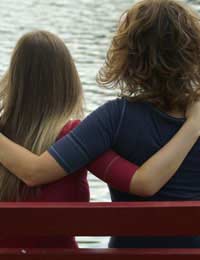 It can not be stressed enough that there is no single cause of an eating disorder such as anorexia, bulimia and binge eating disorder, but rather it is accepted that a combination of personal, family, interpersonal, biological and socio-cultural factors influence the development of an eating disorder.
Though the combination of factors which bring about an eating disorder in an individual will vary from person to person, there are some precipitating factors that have been known to catalyse this development. These precipitating factors, also called life crises or turning points, include dramatic events such as the loss of a loved one, the loss or transfer of a job, moving homes, divorce, attempts at dieting, a personal disappointment and even the accumulation of stress that can not be efficiently dispelled.
Precipitating Factors of Eating Disorders
There are a variety of external factors that can hasten the development of an eating disorder, and most of them represent some sort of crisis or disappointment to the individual. The loss of a loved one or life changes, such as moving homes or transferring jobs are seen as precipitating factors of eating disorders as they throw an individual's life off balance as well as cause significant stress though the individual's normal support system has vanished. Divorce and the loss of a job are also precipitating factors of eating disorders as not only do they bring major life changes, but often a financial insecurity as well.
In all of these cases, the resulting stress can be enough for an individual's poor coping strategies to fail and for them to turn to an eating disorder instead - whether knowingly or unknowingly. Unsuccessful attempts at dieting are precipitating factors of eating disorders as well, in that when "regular" diets fail, some individuals more quickly fall into eating disorders as a means to an end. Again, this may be consciously known or unknown to the individual.
Coping Skills for Crises
Efficient coping skills may be able to avert the development of an eating disorder in that they should allow individuals to minimise their stresses and use other means to dispel a build up of stress. Many of these coping skills are simple and can be used daily in order to keep stress from building in the first place. Commonly taught coping skills, which can be used in any part of life, include:
Accepting that life brings disappointments and will likely also be imperfect. Rarely will a truly perfect situation present itself in everyday life.
Avoiding stressful situations. If reading fashion magazines makes an individual feel bad about herself, she should skip them and focus on another activity instead.
Scheduling time for hobbies. Regardless of which specific activities are enjoyable and relaxing, individuals should make time for them.
Building a support system. Individuals should cultivate a support system of friends and family who support their hopes and dreams and accept them for who they are.
Breathing. When all else fails, individuals should remember to breath deeply, take time to think and reflect, and move forward only when they have formulated plans with which they are comfortable.
There are many recognised factors which precipitate eating disorders, most of them representing personal disappointments or loss. Though these factors are not necessarily the cause of an eating disorder, they do hasten the development which may have taken longer – or never actually occurred – otherwise. In order to avoid eating disorders, all individuals should develop efficient coping skills and support systems which make them feel comfortable and accepted for who they are, flaws and all.
You might also like...