Osteoporosis and Eating Disorders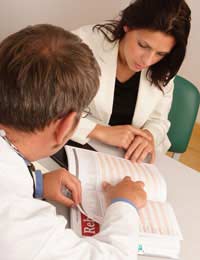 Osteoporosis, a disease which weakens the bones and makes them more susceptible to breaks, is just one of the physical health effects of an eating disorder. Anorexia, bulimia and binge eating disorder all wreak havoc on the body, and because they encourage nutritional deficiencies they leave individuals open to a wide array of health problems. In the case of osteoporosis, a lack of calcium leads to "soft" bones. Fortunately, when eating disorders are treated and healthy eating is resumed, the effects of osteoporosis can be somewhat - though not often entirely - reversed.
Osteoporosis
Osteoporosis is a disease of the bones in which the bone mineral density is reduced. Literally "osteoporosis" translates to "porous bones," which is what happens when the mineral density is reduced and the small holes within bones (usually filled with blood vessels and bone marrow) become bigger and make the bone more fragile to bends and breaks.
Though osteoporosis causes damage to the entire skeleton, it is usually the bones in the wrists, spine and hip that break the most often. Unfortunately, until a bone breaks, many people aren't even aware that they are suffering from osteoporosis. Thankfully osteoporosis is usually an entirely preventable disease. Healthy eating, including a diet rich in foods containing calcium, works to strengthen bones and prevent them from disease. Though the recommended daily intake of calcium differs according to age and gender, foods rich in calcium will likely never harm anyone. Milk, cheese, spinach, broccoli and some forms of fish, such as salmon, all offer good amounts of calcium and should be incorporated into a daily diet.
Osteoporosis and Eating Disorders
Eating disorders that last even just one year bring with them an increased risk of osteoporosis, or the reduction of bone mineral density. This risk is not simply far in the future either - some teenagers who suffer from eating disorders will even be diagnosed with osteoporosis in their 20s! This loss of bone mineral density is the result of both nutritional deficiencies and the loss of menstrual periods in young women with eating disorders. When menstrual periods cease, oestrogen production subsides and thus presents a further risk to bone health. Unfortunately, younger individuals run the risk of more than just a reduction of bone mineral density but a failure to reach peak levels as well. This is a double negative for bone health.
Osteoporosis can be treated in younger people both by helping them regain weight and ingest recommended daily amounts of vitamins and minerals, and by re-introducing oestrogen in women, possibly by the administration of oral contraceptives (birth control pills) that will help to even out hormones after a period of several months. Unfortunately once bone mineral density has decreased it may never recover to appropriate levels and may always lag behind what would be expected in healthy individuals for their ages.
Eating disorders bring with them a host of physical side effects including osteoporosis or the reduction of bone mineral density. Weakened bones which are more easily susceptible to breaks is the result. Fortunately much of the damage caused to bones by eating disorders can be reversed, but not all of it can be overcome. For further information on eating disorders and their effects on physical health, speak to a GP or contact the Eating Disorders Association and/or National Centre for Eating Disorders.
You might also like...
Stephanie - Your Question:
I have been bulemic for approximately 21 years. I've told several doctors but none seem to address the issue. I believe that my chronic fatigue, chronic headaches, chronic sleep problems, and chronic joint and muscle pain is a result of this disease. Is there help or treatment for this obvious mental disease??? I fear I will die before someone addresses my issues! Help, Stephanie
---
Our Response:
Your GP will be able to help you. Please also see the link
here
which you can get help and advice from, even if it is just talking to someone. Twenty-one years is a long time to go without having treatment, you may need to push the issue with your GP, if you haven't previously. There is treatment you can get and yes, the symptoms you say could all be the result of your bulemia. You really do need to reach out and get the help you so obviously need.
EatingDisorderExpert
- 18-May-18 @ 11:23 AM
I have been bulemic for approximately 21 years. I've told several doctors but none seem to address the issue. I believe that my chronic fatigue, chronic headaches, chronic sleep problems, and chronic joint and muscle pain is a result of this disease. Is there help or treatment for this obvious mental disease??? I fear I will die before someone addresses my issues! Help, Stephanie
Stephanie
- 17-May-18 @ 4:21 PM