Lanugo and Eating Disorders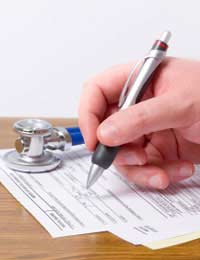 Lanugo or the growing of fine white hairs all over the body, is a phenomenon almost exclusively related to anorexia. Unfortunately, as relatively few people in the UK have ever seen or heard of lanugo, a great amount of mis-understanding exists about this condition. To set the record straight, continue reading for some answers to frequently asked questions about lanugo.
What Is Lanugo?
Lanugo is the formal name for soft, downy, fine white hair that grows mainly on the arms and chests of male and female anorexics. Lanugo will not grow on all anorexics, but it is usually found on those who have suffered from severe weight loss and are approaching emaciation.
Why Does Lanugo Develop?
The growth of lanugo is one of the body's ways of insulating itself. When an anorexic loses too much weight and no longer has enough body fat to help heat herself, the body takes over and grows lanugo. These hairs grow in thickly and attempt to trap heat that is lost from the body before it dissipates. Lanugo is almost like a blanket that the body grows itself.
Is Lanugo Normal?
Lanugo grows on almost all infants in the womb, and it is not uncommon for babies to be born with lanugo still covering their bodies. However, most lanugo is typically shed just a few weeks past birth. Lanugo is not common or "normal" in healthy adults and instead is considered a tell-tale sign of anorexia.
Where Exactly Does Lanugo Grow?
Lanugo often grows where no hair is normally present, including the chest, back, arms, neck and face. Often the lanugo is so soft and feathery that it might be referred to as "fuzz", "peachfuzz" or even "fur". Though an anorexic's feet and hands are often very cold due to poor circulation, lanugo rarely grows in these areas.
How is Lanugo Treated?
Lanugo is not usually treated in and of itself. Instead, the anorexia is treated both in physical terms to help an individual regain weight and physical health, and in mental terms through such methods as counselling or talk therapy, family therapy, group therapy and support groups. During this treatment an anorexic who has grown lanugo can speak to their doctor about the condition.
Where Can I Obtain Further Information on Lanugo and Anorexia?
There is quite a bit of mis-information and myths surrounding eating disorders today, so only contact reputable sources for information on topics such as lanugo and anorexia. The Eating Disorders Association and the National Centre for Eating Disorders are both organisations which can supply correct information on these and similar subjects.
I've Noticed Lanugo on My Body – Where Can I Get Help?
Chances are that if you've grown lanugo then you are in a state of severe malnutrition and emaciation. If you are not already under the care of medical and mental health professionals then you need to be. Contact a local GP, private mental health care specialist or, as you are likely in imminent danger of severe health problems, consider visiting an A&E.
I Am Not Anorexic But Have Grown Lanugo. Now What?
If you are a healthy weight and have no abnormal thoughts or behaviours regarding food then it is highly abnormal to grown lanugo. Consult a GP or dermatologist for more information regarding your specific situation.
You might also like...
@Scooter - do you suffer from chronic fatigue? You may be suffering malnutrition - which means all nutrients. If you are having a bleeding disorder go see your doc! Em
EP87
- 29-Mar-17 @ 9:59 AM
I've had a pretty severe bleeding disorder for a few months now.I've recently noticed fine white hairs all over myself.I'm healthy weight for my height, actually a little overweight. What nutrients could I be missing from excessive blood loss that would cause this?
Scooter
- 28-Mar-17 @ 3:30 AM
Hi, I'm covered in a lot downy hair all over my face, neck, arms, back, torso & then have normal hair on my legs (I'm dark haired). I'm not anorexic though, in fact I'm overweight. I'm 40 & have had this hair as long as I can remember. I do have coeliac disease though, that was only diagnosed 6 years ago. I also take different medications that do affect my temperature, both making me overheat, & feel the cold. I'd love to know what causes this - it is embarrassing. Would it be because I didn't get enough nutrients until I cut out gluten 6 years ago? If so, why does the hair still grow? Anyone know?
Lulahv
- 10-Sep-16 @ 9:02 PM
I've grown a layer of fur on my entire head, under my hair and forehead. I'm not an anorexic, I'm 5'2 120lbs. However since birth I wasn't properly fed, I went through my childhood not knowing what breakfast and lunch were. I ate after school, I'd make potatoe fries and brownies from scratch usually. My sisters and I would eat a can of green beans too. I've been suffering headaches since 5th grade and never received treatment. I'm currently 36 yrs old and I feel like I'm dying and its invisible to everyone, including myself.. I fear brain cancer..
Mississippi
- 20-Aug-16 @ 1:48 AM
I'm at a healthy weight but have lost a lot of weight through restricting since around October time. Ive noticed recently I've grown "fur" all over my body particularly my face. Could this be related or is it something else? I don't get any help for eating disorders. I was refused it 5 years ago due to being a healthy weight. I haven't asked for help since.
LionKing
- 29-Apr-16 @ 8:55 PM
Seriously??? You people are worried about this article not being gender specific??? Why dont you take the information given in this article and use it for what it is, instead of being offended by the phrase "she", or "her"? Pathetic
Old skool
- 25-Apr-16 @ 9:10 PM
Ricardo - Your Question:
You need to change the article to be gender neutral. I'm male and had from anorexia in '81-'82. It's lethal and nearly killed me.
---
Our Response:
I am sorry to hear this and I have taken your point on board and changed the references to make it non-gender specific.
EatingDisorderExpert
- 14-Mar-16 @ 2:17 PM
You need to change the article to be gender neutral. I'm male and had from anorexia in '81-'82. It's lethal and nearly killed me.
Ricardo
- 13-Mar-16 @ 7:51 PM
@Annie - Malnutrition occurs when the supply of nutrients and energy is inadequate to meet the body's requirements, and Lanugo can be observed in malnourished patients, so even though Languno is rare, there is a possibility the two are connected.
I had a binge habit during stress 5 yrs ago. Health took nose dive within a year.I then had fear of food and only ate protein bars nuts fruits chocolate snack and baked foods etc most the time.I was also too sick n tired to cook nutritious meals.I did this for a year or two.I have this fine hair in the same places you mentioned and I am wondering even if I was never anorexic if I could have grown that hair due to not eating well?And does it go away once youre body is balanced with the right foods etc?
Annie
- 13-Jun-15 @ 2:50 AM
I think the should abstain from only using "her/she/herself" in these articles... men do suffer from eating disorders as well, though it is far more uncommon.... just a thought! not to be rude or anything haha so sorry.
jcb
- 18-Jan-15 @ 6:15 AM