Diagnosing Geophagy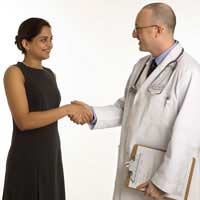 Geophagy is the practice by which an individual routinely eats soil substances such as chalk, soil, mud and clay. The cause of geophagy is unknown, but in some parts of the world it is practiced as a means of completing the diet and is therefore considered an adaptive behaviour and not an eating disorder. In the UK, however, geophagy is most often diagnosed as a type of pica, and therefore an eating disorder, and it is most often diagnosed in children and pregnant women. As with the ingestion of any type of non-food substance, the consumption of soil substances can lead to extreme health concerns and so should be treated by a medical professional as soon as possible.
Signs of Geophagy
There are only two real signs of geophagy, which are the craving and eating of soil substances including chalk, soil, sand and mud. These eating behaviours may or may not be conducted in secret, though soil substances are rarely the main type of substance consumed by an individual. In fact, hardly ever does geophagy prohibit an individual from consuming an otherwise normal and healthy diet, but it is feelings of shame and embarrassment that most often keeps Westerners from seeking a diagnosis for their tendencies to eat soil substances.
Diagnosing Geophagy
Geophagy is usually only discovered when an associated health problem such as an intestinal blockage, intestinal perforation or tear, dental injury, poisoning or parasitic infection strikes and an individual is rushed to a surgery or hospital. During the medical investigations blood tests will usually be carried out which determine if a mineral deficiency or anaemia could be the cause of geophagy (as has been documented in many cases). If no such medical emergencies or investigations occur, then geophagy can remain undetected for some time.
Geophagy is formally diagnosed as a type of pica, and therefore an eating disorder, in individuals who have routinely consumed non-food substances for at least a month and for whom this behaviour is inappropriate to their developmental stage. However, geophagy is not diagnosed as an eating disorder if soil substances are consumed by an individual as part of a recognised cultural or religious practice. If this is the case, then geophagy is recognised as a type of traditional or adaptive behaviour and not as a type of pica.
Treating Geophagy
There is no recognised cure for geophagy, and the type of treatment recommended will depend upon the type of geophagy that is diagnosed. If geophagy is recognised as a traditional or adaptive behaviour then there will likely be no treatment plan recommended. If, however, geophagy is believed to result from a nutritional deficiency then vitamin or mineral supplements will likely be prescribed. But if geophagy is diagnosed as a having a psychological basis then a treatment plan appropriate to this diagnosis will likely include counselling or talk therapy, family counselling, cognitive behaviour therapy, attendance at support groups, and nutritional education, counselling and planning.
Geophagy is the practice of eating soil substances and may be either a type of pica and therefore an eating disorder or a traditional or adaptive behaviour as recognised in certain cultural and religious groups. For further information on geophagy, consult a medical or mental health professional for advice on specific behaviours and motivations.
You might also like...