Pica Disorder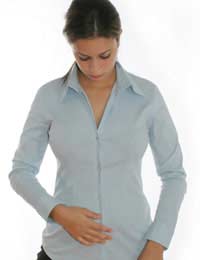 Pica Disorder is a relatively rare eating disorder in which an individual ingests non-food substances such as chalk, soil, paper, plaster, paint chips and more. Since it is not a common disorder, few people understand pica as it relates to the general population. Below are some basic answers to frequently asked questions about pica.
What Causes Pica?
It is not yet known what causes pica, but research indicates that it may be related to mineral deficiencies such as an iron deficiency. However, often the non-food items that an individual chooses to consume will not contain the mineral of which they are deficient, so pica is not an alternative means of obtaining nutrients.
Who Suffers from Pica?
Statistics show that pica is generally diagnosed in children and pregnant women. For children, pica is only diagnosed when eating the non-food substance is developmentally inappropriate, and therefore pica is usually diagnosed only in children over the age of two. Women who suffer from pica during pregnancy often understand that what they are eating is, at the very least, odd and possibly harmful, but the compulsion is so strong that they eat it anyway. Due to embarrassment, many women then avoid seeking treatment for pica and instead continue on in secrecy.
What Non-Food Substances are Consumed Due to Pica?
In addition to chalk, soil, paper, plaster, and paint chips, individuals with pica may also be drawn to and enjoy eating glue, faeces, insects, leaves, gravel, clay, laundry detergent or starch, baking soda, cigarette ashes or butts, ice, hair, soap and buttons. Individuals may also be drawn to eating raw ingredients that have not yet been combined into cooked food, such as floor and raw potatoes. Usually these items are consumed in addition to an otherwise normal diet, and so do not prohibit the individual from consuming healthy food as well.
What are the Signs of Pica?
There are only two signs of pica: cravings for non-food substances and eating non-food substances. There are, however, some health risks associated with pica stemming from ingesting foreign substances, including intestinal blockage, intestinal perforation or tear, dental injury, poisoning and/or parasitic infections. Often it is only when an individual is being treated for these associated problems that pica comes to light and is diagnosed.
How is Pica Diagnosed?
Pica can remain undetected for months or even years if no major health problems occur. Pica is diagnosed in individuals who have routinely consumed non-food substances for at least a month, for whom this behaviour is inappropriate to their developmental stage and who do not consume these substances as part of a recognised cultural or religious practice.
How Is Pica Treated?
The type of treatment recommended for pica will depend upon the type of pica that is diagnosed. If pica stems from a nutritional deficiency then this will usually be treated with supplements to rectify the deficiency. If pica is diagnosed as a having a psychological basis, then an appropriate treatment plan for this condition will result.
How Can I Obtain Further Information on Pica?
Both medical and mental health professionals will be able to provide further information on pica. Contact a local GP or private mental health specialist to obtain more information on pica.
You might also like...
I want a post on the eating textures removed. Can you help me?
Anomyous
- 16-Feb-21 @ 9:37 PM
Hi can you please contact me and help me I want a post on this thread removed
Anomyous
- 16-Feb-21 @ 8:05 PM
Hi can you please contact me I want a post removed from this website. Can you help me?
Anonymous
- 16-Feb-21 @ 7:47 PM
Hi I was wondering if you could contact me and help me remove a post from this websit. Thank you
Anonmyous
- 16-Feb-21 @ 7:43 PM
I have no drywall left in my trailer. Just i beams, copper pipe, and electrical lines. Thanks obama for only giving us 600$ stimulus. Drywall is expensive libtard! Ps my club is looking for recruits. We all wear matching white outfits. We hang out once a week and have bonfires in the woods. Dm me if interested. Trevor out, your neighborhood potato boy
Potato Boy
- 5-Jan-21 @ 8:21 AM
I thought I was alone, I have a habit of eating the thread on the clothes and I've ruined a lot of my clothes..
Simmy
- 27-Dec-20 @ 7:00 PM
Hey yeah I got banned from all the local hardware stores. I think it's because they don't like trump like a bunch of libtards. Keep fighting the good fight trumpsters. Ps. The trump train is still coming. Choo choo. Chew chew on the drywall too.
Potato Boy
- 26-Dec-20 @ 3:49 AM
I too have pica, Age 36. Im love to chew on carpet not the in door out door kind too much but the loose fiber kind. When I was younger it started with towel then move to the carpet. It was more of the paste backing for me. I have found myself going into home depot and getting samples to keep from pulling from the home flooringThe cravings can get very strong sometime.
Ms M
- 18-Dec-20 @ 1:32 AM
I also have pica eating disorder. It started when I was about 12 and I ate drywall. The cause of this was because I was having heavy menstruation and I lost a lot of iron which caused me to be anemic. This triggered my cravings and I started to eat drywall. Please if you are suffering from this tell your parent or get it checked out by your doctor. This could potentially cause damage to your health. I told my parent after 1.5 years about this, you have to get help and prevent further damage. You can suffer from lead poisonings and more. I know its totally normal to feel embarrassed and be scared to tell your parents and I was scared too. But after telling them I felt like a huge burden lifted off from my shoulders. They understood my situation and took me to the doctor to get treatment (which was iron pills). The sooner you report it the less damage will be done. I am 15 now and I am doing much better. Sending love and support to all of you and I hope all of us are able to cope wit this and become healthier.
Guest
- 15-Dec-20 @ 7:08 AM
Okay I thought I was the only one that does this and it makes me feel so weird and self conscious but I HAVE to chew on dry towels. I will rip the threads out and chew on the ball of thread in my mouth. Something about the texture and taste of laundry detergent is just so addicting. When it gets soggy and the taste of detergent fades I spit it out. I've gone through multiple multiple towels until they were nothing. I didn't know whether or not this was considered pica since I don't ever swallow it but now I know.
Kaykay
- 9-Dec-20 @ 12:27 AM
my sister has been eating cotton out of beds since 2017 and still do it in 2020 i only know because i peep small things i told my mom and she told my sister she needs to go get help because she has pica my sister didnt know we knew
londynn
- 9-Dec-20 @ 12:14 AM
I've always had cravings for towels and even my clothes. I started when i was 15 i don't know why but i just pull and pull on my towels strings and i swallow it sometimes it's hard to control myself and stop then i got pregnant at 17 and i started doing it to my clothes it's just so addicting i stopped for about 2-3 months but then i started to do it again and I don't know how to control it. It takes weeks in order for my body to digest it out of me i literally have to take medicine to be able to poop it out softly and fast so that it won't hurt. I'm now 19 and i thought I was the only one who did this until i did research.
yellow0121
- 6-Dec-20 @ 9:50 PM
Happy thanksgiving ya'll. Mine was ok until I passed out. Turns out I got drywall poisoning. I just got out of the hospital. Be safe ya'll. And remember, Biden can't stop the Trump train! CHOO CHOO
Potato Boy
- 3-Dec-20 @ 3:18 AM
Hey this is Trevor again. What's a towel? Anyway, just checking back in. Trump losing the erection is really stressing me out so I've been eating a lot more drywall. Bit into a nail the other day and bled a lot but it's ok. God bless -Trevor
Potato Boy
- 10-Nov-20 @ 3:29 AM
I've been chewing on dry towels for roughly 3 years now and I don't know how to stop. They have to specifically be dry and roughish, so I wash the towels with only laundry detergent and without any fabric softener. I like them dry because I am obsessed with the feeling of dry things on my tongue. I can chew multiple full-sized bath towels in only 1 hour. I am also obsessed with eating ice, preferably dryer ice rather than wet ice. As well, I'm obsessed with the feeling of carpets and whenever I am at a furniture store, I can't stop myself from feeling all over the carpet/rug samples. I know that it's pica and that I am anemic, but I haven't gotten an official diagnosis yet.
purple567
- 5-Nov-20 @ 6:04 PM
Don't listen to my son Potato Boy aka Trevor. We fed him a nice diet of expired meat patties and plumbing plaster (store brand). It's not my fault the boy likes drywall. His girlfriend left him for me. PS- Trump 2020 Make Liberals Cry Again
Hittin' Homers
- 2-Nov-20 @ 3:56 AM
Shut up! I like drywall! I've been eating drywall since I was born. It makes me feel good. Everyone always makes fun of me for it but they're just razzin me. And I'm not going to crew 4!
Potato Boy
- 2-Nov-20 @ 3:23 AM
I'm 33yrs old and I been eatingdrywall since I was very young it startedwith chalk then I moved up to drywall my craving is so intensewhenever I see a whole in the wall I have to just go for it it doesn'tmatter where I am I just can't help it I offen buy sheets of drywall to keep in my house since it was costing me so much to keep having someone replacemy walls at home so I keep some in my car as wellI tried my best to stop but nothing I do seems to work for me theUrges just come back even stronger
Rere
- 22-Oct-20 @ 3:24 AM
i've been eating wool like materials since i was 6.the feeling in my mouth is a satisfying feeling,when it isn't around i'd crave it,i've eaten a jumper with the matching joggers , another jumper,a scarf, fluffy cushions, half of a big blanket and up to now i still pick them and eat them, growing up my mum knew about it and used to get very heated but i stated to hide from her and do it. eventually i'll stop but for now it's an occurring thing since i was 5/6 and now i'm 17. nobody really knows but it's something i'm not afraid to share as i'm not alone .
sending
- 18-Sep-20 @ 10:51 AM
Alongside towels, I've also been eating ice.
isabel
- 9-Sep-20 @ 8:40 AM
I started eating string in 5th or 6th grade. In 7th grade I started taking pieces of towels, chewing them until they were tiny pieces of string, and then swallowing them. I'm 14 now and starting high school. I only do it sometimes, but I still get cravings often. I'm kinda worried for my health, but I don't know how to stop. No ones seems to have noticed the missing towels, as I usually take certain ones that are old and wouldn't be missed. I haven't told anyone about this.
isabel
- 9-Sep-20 @ 8:39 AM
I also suffer with this. I can vaguely remember it starting when I was about 7/8 and my mom and I were in a carpet shop. I would run behind the gaps of the carpets (the carpets were propped up along the wall leaving a "crawl space" behind) and lick and try to bite the carpets while I was out of sight. The texture is what drew me, the feeling on my tongue was addictive and I needed more. I would often just get on the floor when no one was watching and lick the carpet. I don't think this went on for ages. It then resurfaced in my teen years. I became obsessed with towels. They needed to be dry for the texture. I would sit in my room sucking/chewing the towel then blow drying it, repeating until bedtime. It was taking up all of my time and I was destroying my towels. I tried to hide it from my mum but she found out. Doctors were no help. 3 or so years later I was rushed to hospital for a transfusion after a blood test revealed I was anemic. After looking at symptoms I am convinced this Pica stems from my iron imbalance. When I take tablets to correct my iron, the cravings subside. I'm still trying to figure it out. I am treating it like an addiction and have to go force myself to stop. It's extremely hard mentally and I occasionally give in. But I am so much better at controlling it now. Would also like to add that I think the acid/dyes and fabrics I ingest while chewing have weakened my teeth as I am more susceptible to cavities and my teeth break and crumble. Just stay safe everyone. Thinking about the danger I am doing to myself helps me try and curb my addiction. It's cool knowing I'm not alone!
Anna
- 11-Aug-20 @ 3:20 AM
I have been eating non food since I was 2, I started with dried wall and paint. then i started eating cotton, foam and chalk. I left eating those things but soon developed a craving for threads and fabric since i was 3. this turned into an addiction and i would rip out fabric, strings and threads from my clothes,towels and carpets. i cannot stop myself and the most i could resist is for one day. whenever my parents found out the clothes they would scold me and threaten me, not like they are bad parents but they never understood this. they would ask if i had a mental problem or the reason why i do it but i could not find a reason. I tried to reach out to a pschyologist but this thing is not common in my country and they also didnt understood that At first i used to think that i was the only one with this kind of problem, but when i discovered this site i realized there are more, thankyou every one for sharing this, i really feel less alone now.
abdul ahad
- 29-May-20 @ 6:31 AM
Hi I'm 33 years old and I love eating drywall I have been eating eat since I was little. I was born with a heart condition. I was in a car accident January 1 2017 andsince then my cravings and ratings have gotten out of control I moved I to this. We apartment 2 years ago and I had a seizure in one of my closets and broke the wall and drywall was exposed I have been eating it so much that the walls gone. It's such a bad craving it's worse the my craving for my pain pills. I have like a ritual that goes with it. I take down the wall and get it wet to rub off the pain and paper off of it so it just exsposes the drywall then I put it In a big bowl with cold water over it until its drenched in water andstays in the water then I brake it into bit size peiceskind of like a boulder of popcorn. Then when I eat it I eat it alone for hours when I take a bite I take a big puff of my e cigarette and chew then blow out and it has that dusty dirt taste. I just recently have had a big change I. My life my husband moved away to help take care o mother work and leave me. I'm so embarrassed I have tried to talk to my doctor but she looks at me like she thinks I. Crazy and disgusted with me. I have never craved something so bad and so much now I have to pay for the 4 by 10 walls in my apartment that's gone becuase I eat it I couldn't control this urge. Please help me I already have a hard enough life what do i do. I have tried vitamins and other things but nothing is working.
Alaskan
- 16-May-20 @ 6:05 PM
Well i was looking for information. I have a 2 year old son and he cant stop from scratching my wall paint and eat it also when i visit my sister because she has a backyard to play he has to take the rocks and put it in his mouth or he starts to. Bite the cardboard and i dnt know how to help him stop.
Keila
- 6-May-20 @ 8:33 AM
I've been eating carpet since I was 8 years of age I'm full grown now with 3 kids and I still do this I sometimes go to buy cuts of carpet just to pull and it eat I just can't stop
JmarieMarie
- 6-May-20 @ 2:23 AM
Ive been eating cloth fabric. String by string. I really want to stop but cant
Noonie
- 1-May-20 @ 4:29 PM
I been eating spongesdry ones and sheetrock sometimes I'll eat chalk but not as much as sheetrock.since I was 18 now I'm 35. It goes and comes.im really embarrassed , no one knows.
Ana
- 22-Apr-20 @ 7:44 AM
For as long as I can remember I've always chewed towels. At first it started as something that is not uncommon amongst young children - I would just suck the water out of flannels and towels. But then it became worse so that I would actually rip the threads out and swallow them. It grew so bad that I would tear chunks of the fabric away and eat them which made my mum realise what I was doing when she saw the holes. She was not understanding and told me off for destroying the towels rather than trying to find out what was wrong. Ever since I've tried to hide it. I now have a bag where I keep the remains of a few towels and mainly chew the same bits, trying not to swallow any. I am 18 and I really want to stop - I'm worried about what effect this could be having internally since I've been doing it so long but I don't know how to tell anyone without feeling like a freak/ I'm being judged. Thank you to everyone who shared their stories - reading them genuinely made me feel less alone in this strange, misunderstood addiction :)
Lily
- 6-Apr-20 @ 10:34 PM
For as long as I can remember I've always chewed towels. At first it started as something that is not uncommon amongst young children - I would just suck the water out of flannels and towels. But then it became worse so that I would actually rip the threads out and swallow them. It grew so bad that I would tear chunks of the fabric away and eat them which made my mum realise what I was doing when she saw the holes. She was not understanding and told me off for destroying the towels rather than trying to find out what was wrong. Ever since I've tried to hide it. I now have a bag where I keep the remains of a few towels and mainly chew the same bits, trying not to swallow any. I am 18 and I really want to stop - I'm worried about what effect this could be having internally since I've been doing it so long but I don't know how to tell anyone without feeling like a freak/ I'm being judged. Thank you to everyone who shared their stories - reading them genuinely made me feel less alone in this strange, misunderstood addiction :)
Lily
- 6-Apr-20 @ 10:26 PM